When:
6 August 2019 @ 20:00 – 21:15
2019-08-06T20:00:00+02:00
2019-08-06T21:15:00+02:00
Where:
Jacobikerk Uithuizen
Hoofdstraat Oost 2
9981 AH Uithuizen
Nederland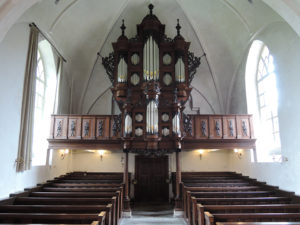 Stichting Arp Schnitgerorgel Uithuizen presents:
International students on the organ at Uithuizen
A recital given by organ students taking part in the international Masterclasses: today they may take their place at the organ in the Jacobikerk in Uithuizen, one of the most beautiful Schnitger organs in the province of Groningen.
The students who are taking part in the 'Schnitger Meets…' Masterclasses organised by the Orgelzomer Academy, have been given three opportunities to give a public recital on an authentic Baroque organ. After the Martinikerk organ on 2 August and the Garrels-Radeker organ in Anloo op 3 August, it's now the turn of the Schnitger organ in the Jacobikerk in Uithuizen. This organ has a captivatingly beautiful sound which connoisseurs will tell you softly envelops the listener: never shy or small of sound, but always playful and clear with its well-known overtones. Let's see how the students surprise us with their playing!