When:
4 August 2019 @ 20:00 – 21:15
2019-08-04T20:00:00+02:00
2019-08-04T21:15:00+02:00
Where:
Hervormde kerk Noordbroek
Noordersingel 1
9635 AV Noordbroek
Nederland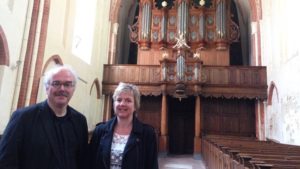 The Orgelcommissie Noordbroek presents:
Double recital given by Leonore Lub and Peter Westerbrink in Noordbroek
Organ recital given by the married organ couple Leonore Lub and Peter Westerbrink on 'their' organ in the Hervormde Kerk in Noordbroek
The local turf provided Oldambt with such wealth in the 13th century that the villages in the area could afford to build huge, brick churches. The village of Noordbroek was no exception, where next to the separate tower (affectionately called 'Ol' Dodde' or 'Old Fatty') a wonderful cruciform church was built at the beginning of the 14th century. The organ which Arp Schnitger built there in 1696 is just as impressive, and since its restoration in 2015 it has been returned to its former glory. Connoisseurs will tell you that the sound has remained just as beautiful as it ever was: a unique symbiosis of Schnitger's craftsmanship and that of his successors Hinsz and Freytag, who in 1768 and 1809 respectively made alterations to the organ. Leonore Lub is the organist for this church and both she and her husband Peter Westerbrink know this wonderful organ like the back of their hand: and this they will demonstrate for us this evening.