When:
7 August 2019 @ 20:00 – 21:15
2019-08-07T20:00:00+02:00
2019-08-07T21:15:00+02:00
Where:
Martinikerk
Martinikerkhof 3
9712 JG Groningen
Nederland

Stichting Avondtmusyck Martinikerk Groningen presents:
Closing recital given by Tobias Willi and Pavel Černý
With this recital we bring the ten days of 'Schnitger Meets…' festivities for the Groningen organs to a close. Our organists will be the Swiss virtuoso Tobias Willi and the Czech organist supreme Pavel Černý.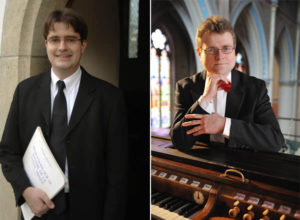 A double recital given by two organ superstars: Tobias Willi and Pavel Černý. For the audience this will be the last opportunity for now to hear these international phenomena play in Groningen. For the last ten days, they and three colleagues from Europe and Asia have been in Groningen to give masterclasses on a number of the many beautiful historic organs we have here, as part of the celebrations of the inauguration 50 years ago of the Stichting Groningen Orgelland. Today Willi and Černý will sound the final notes for these festivities on the mighty Martinikerk organ, Groningen's most famous Schnitger organ.
Programme Pavel Černý

Koororgel
Carolus Luython
(1557 -1620 )
Fantasia in C
Johann Caspar Kerll
(1627 – 1693)
Capriccio sopra il Cucu (1. Fassung, 17. Juli 1679 in Prag)
Josef Ferdinand N. Seger (1716 – 1782)
Fuga f-moll - Wenn die Präusen Prag bombardierten anno 1757 (Klage über verbrandte Ferdinand-Domorgel, an die hat sich u.A. auch Luython beteiligt)
Schnitger orgel
Nicolaus Bruhns
(1665 – 1697)
Praeludium in e ("groß")
Dietrich Buxtehude
(1637 – 1707)
Nun bitten wir den Heiligen Geist BuxWV 208
Jan Dismas Zelenka
(1679 – 1745)
Nun bitten wir den Heiligen Geist BuxWV 208
Jan Dismas Zelenka
(1679 – 1745)
Andante aus der Simphonie à 8 Concertanti in A minor, ZWV189 (Prag 1723, fűr Orgel von Robert Hugo und Pavel Černý bearbeitet)
J. S.Bach
(1685 – 1750)
Passacaglia c-moll BWV 582
Programme Tobias Willi

Dieterich Buxtehude
(1637-1707)
Praeludium in d BuxWV 140
Johann Sebastian Bach
1685-1750)
Contrapuncti I & II
(from: Die Kunst der Fuge BWV 1080)
Dieterich Buxtehude
(1637-1707)
Mit Fried und Freud ich fahr' dahin BuxWV 76
Contrapunctus II & Evolutio
Johann Sebastian Bach
(1685-1750)
Contrapuncti III & IV
(from: Die Kunst der Fuge BWV 1080)
John Cage
(1912-1992)
Souvenir (1983)
Johann Sebastian Bach
(1685-1750)
Praeludium (Toccata) in C BWV 566