When:
1 August 2019 @ 20:00 – 21:15
2019-08-01T20:00:00+02:00
2019-08-01T21:15:00+02:00
Where:
Hervormde kerk Farmsum
Op de Wierde
9936 CP Farmsum
Nederland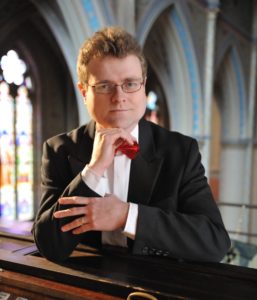 Stichting Lohmanorgel Farmsum presents:
Pavel Černý on the organ at Farmsum
Organ recital on one of the most beautiful Lohman organs in the province, given by the Czech organist Pavel Černý
The organ-building family Lohman – originally from Ost-Friesland over the border in Germany – built several organs in Groningen at the beginning of the 19th century. One of the most beautiful, with the most crystal-clear sound, was finished in 1829 in the Reformed church in the village of Farmsum, a stone's throw away from Delfzijl. Since its inauguration this organ has been known for its intense, clear and full sound which reminds one more of an early 18th-century instrument than one from the 19th-century. This evening the famous Prague organist Pavel Černý, who is also in Groningen to give Masterclasses in the 'Schnitger Meets…' series, will play this unique instrument for us.
Programme

J.S.Bach
(1685 – 1750)
Sinfonia aus der Kantate "Wir danken dir" BWV 29 (für Orgel von Alexandre Guilmant bearbeitet)
J.S.Bach/C.M.
Widor(1844-1937)
Aria in e-moll (Bachs´ Memento, Paraphrase nach Wohltemperieter Klavier)
Clara Schumann
(1819-1896)
Fuge E-dur (Drei Fugen über Themen von J. S. Bach)
W/ Gottlieb Hauff
jr.(1793–1858)
Het volle Werk, met een zacht Clavier
Georg Wilhelm Derx
(1801–1864)
Impromptu over een opgegeven thema

F. Mendelssohn-Bartholdy
(1809–1847)
Sonate A-dur op. 65 Nr. 3
I. Con moto maestoso
II. Andante tranquillo
Antonín Dvořák
(1841–1904)
Praeludium a-moll (Compositionsversuche in Präludien und Fugen, 1859)
Karl Franz Pitsch
(1786–1858)
Fantasie und Fuge auf der Tod Felix Mendelssohn-Bartholdys
Richard Wagner
(1813 –1883)
Pilgerchor aus Tannhäuser (Paraphrase von Franz Liszt)
Franz Liszt
(1811 – 1886)
Praeludium und Fuge über das Thema B-A-C-H