When:
4 August 2019 @ 15:00 – 16:15
2019-08-04T15:00:00+02:00
2019-08-04T16:15:00+02:00
Where:
Lutherse kerk
Haddingestraat 23
9711 KC Groningen
Nederland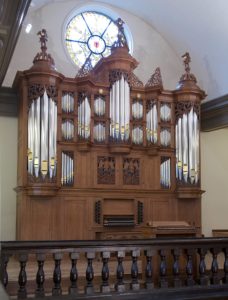 Stichting Vrienden Lutherse Kerk presents:
Tobias Willi at the organ in the Lutherse Kerk
The Swiss organist supreme Tobias Willi will display all the possible sounds on the recently reconstructed Edskes-Schnitger organ in the Lutherse Kerk.
Tobias Willi is a popular guest for every organ committee: aged 42, he has played almost all the great organs of Europe, delighting his audience every time with his spectacularly virtuoso playing and his talent for contemporary music and improvisation. Many will be looking forward to his performance in the Lutherse Kerk, to hear what this talented organist will do with this organ's characteristic Schnitger sound. How will he combine its authentically raw intonation and its wealth of overtones? We will hear this afternoon!
Programme

Schnitger-/Edskes-Orgel
Ludwig Senfl
(1486-1543)
Praeambulum VI vocum
J.S. Bach
(1685-1750)
"Wie schön leuchtet der Morgenstern" BWV 739
Samuel Scheidt
(1587-1654)
Hymnus "Christe qui lux es et dies"
- 1. Versus
- 2. Versus
- 3. Versus – Choralis in Cantu
- 4. Versus – Choralis in Alto
- 5. Versus – Choralis in Tenore
- 6. Versus – Choralis in Basso
- 7. Versus – Canon in subdiapason post minimam, Choralis in Basso, pedaliter
Van Oeckelen-Orgel
Louis Vierne
(1870 – 1937)
Etoile du Soir (op.54/3)
Tobias Willi
(*1976)
Improvisation on a poem
Herbert Howells
(1892 – 1983)
Psalm Prelude on Psalm 23.4
'Yea, though I walk through the valley of the shadow of death I will fear no evil: for Thou art with me, Thy rod and Thy staff comfort me.'
Schnitger-/Edskes-Orgel
Jan Pieterszoon Sweelinck
(1562 – 1621)
"Christe qui lux es et dies" (3 Variations)
Dietrich Buxtehude
(1637 – 1707)
"Wie schön leuchtet der Morgenstern" BuxWV 223
Praeludium in D BuxWV 139