When:
5 August 2019 @ 20:00 – 21:15
2019-08-05T20:00:00+02:00
2019-08-05T21:15:00+02:00
Where:
Der Aa-kerk
Akerkhof 2
9711 JB Groningen
Nederland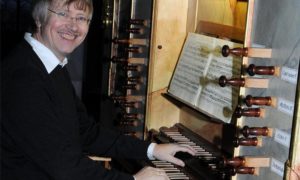 Bijzondere Locaties Groningen presents:
Wolfgang Zerer on the organ in the Der Aa-kerk
Organ recital on the Der Aa-kerk's Schnitger organ given by Bach specialist Wolfgang Zerer from Hamburg.
Wolfgang Zerer is known for his lively playing and has the audience on the edge of their seat from the word go. His outstanding technique and musicality result in fantastic performances on any organ, surprising his audiences each time with colourful combinations of the organ's different sounds. How will he let the famous Der Aa-kerk organ sound? Distinguished and reserved, majestic, or delicate and tender? We will find out today!
Programme

Johann Sebastian Bach
(1685 – 1750)
Praeludium und Fuge in a-Moll BWV 543
Felix Mendelssohn-Bartholdy
(1809 – 1847)
Thema mit Variatione
Antonio Vivaldi
(1678-1741)
Concerto in d-Moll (op.3/11 – RV 565)
(Transkription für Orgel von J.S.Bach)
Allegro – Grave – Fuga
Largo e spiccato
Allegro
Robert Schumann
(1810-1856)
aus "Sechs Stücke in kanonischer Form":
"Mit innigem Ausdruck" (op. 56/2)
Johann Sebastian Bach
(1685-1750)
aus "Clavier-Übung III- Teil":
"Kyrie, Gott Vater in Ewigkeit"
"Christe, aller Welt Trost"
"Kyrie, Gott heiliger Geist"
BWV 669 – 671
Johannes Brahms
(1833-1897)
Fuge in as-Moll
Johann Sebastian Bach
(1685-1750)
Praeludiumund Fuge in g-Moll(BWV 535)