When:
3 August 2019 @ 16:00 – 17:15
2019-08-03T16:00:00+02:00
2019-08-03T17:15:00+02:00
Where:
Grote of Jacobijnerkerk Leeuwarden
Jacobijnerkerkhof 95
9728 GA Leeuwarden
Nederland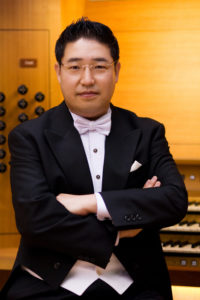 Stichting Orgelconcerten Grote Kerk Leeuwarden presents:
Jisung Kim on the organ in the Grote Kerk in Leeuwarden
Afternoon recital on the historic Müller organ in the Grote Kerk in Leeuwarden given by the South Korean concert organist Jisung Kim.
There may be no great long organ tradition in Asia but that hasn't stopped South Korean organist Jisung Kim. Early on he discovered the beauty of the organ's sound, and in particular the sound of original, historic organs built in the 17th and 18th centuries. During his studies in Europe (among others in Cologne and Paris), he could really bask in this. Today he will be playing another fantastic historic organ in the Grote Kerk in Leeuwarden, the famous Müller organ. The Müller organ's completion in 1727 was celebrated by all present in the "great Courtroom in the City Hall with a glass of wine and accompanying difhes". No doubt Jisung Kim's recital will give just as much reason for a celebratory glass of something in a local hostelry!
Programme

J.S. Bach (1685-1750)
Konzert D-Dur BWV 972
I. Allegro
II. Larghetto
III. Allegro

Schübler'sche Choräle
I. Jesu bleibet meine Freude (Kantata 147)
II. Du Friedfürst, Herr Jesu Christ (Kantata 143)
III. Herr Jesu Christ, du höchstes Gut (Kantata 113)
IV. Herzlich tut mich verlangen (Kantata 159)
V. Kommt her zu mir, spricht Gottes Sohn (Kantata 86)
VI Laß mich dein sein und bleiben (Kantata 95)

Partita d-moll BWV 1004
I. Allemanda
II. Corrente
III. Sarabanda
IV. Giga
V. Chaconne