When:
19 October 2019 @ 12:00 – 12:45
2019-10-19T12:00:00+02:00
2019-10-19T12:45:00+02:00
Where:
Martinitoren
Martinikerkhof 3
9712 JG Groningen
Nederland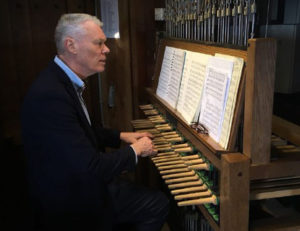 Hark, hark, the bells of the Carillon ring out!
The Groningen carillonneur Auke de Boer will play Baroque melodies on the Martinikerk tower's carillon
At midday on Saturday afternoon the Martinikerk tower's bells strike twelve. The last chime is the signal for Auke de Boer, the Martinikerk's own carillonneur, to start his own performance on the carillon, 70m above the Grote Markt in the carillon room after a climb of no fewer than 311 steps!
True connoisseurs may have brought a deckchair to be able fully to take in the performance, but a passing visitor to the market will also stop and listen as De Boer lets the 52 bells of the Martini carillon ring out with the Baroque sounds of Bach and his contemporaries.