When:
2 August 2019 @ 12:45 – 13:45
2019-08-02T12:45:00+02:00
2019-08-02T13:45:00+02:00
Where:
Martinikerk
Martinikerkhof 3
9712 JG Groningen
Nederland

Lunchtime recital in the Martinikerk:
International organ students on the Martinikerk organ
The chance of a lifetime for the students taking part in the international Masterclasses: they will get the opportunity to display their talents on the world-famous Martinikerk organ during this lunchtime recital.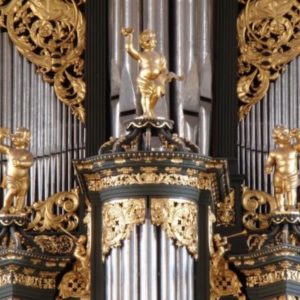 After more than three days of Masterclasses, a couple of the organ students will for the first time be able to experience giving a recital on such a magnificent organ as the Martinikerk organ. The Masterclass experts will decide among themselves the names of the students who in their eyes deserve this honour the most. For a symbolic price of €1, members of the public can take their seats in the nave of the Martinikerk. Will the students be able to bring the unique set of pipes with its six centuries' worth of beautiful, characteristic materials, to life? Come and listen and decide for yourself.