When:
7 August 2019 @ 09:30
2019-08-07T09:30:00+02:00
2019-08-07T09:45:00+02:00
Where:
Hervormde kerk Noordbroek
Noordersingel 1
9635 AV Noordbroek
Nederland

The Orgelzomer Academy
Schnitger Meets… Masterclasses
On the last day of the Masterclasses, all the students will be in the churches at Zuidbroek and Noordbroek. The experts are Wolfgang Zerer, Theo Jellema and Erwin Wiersinga.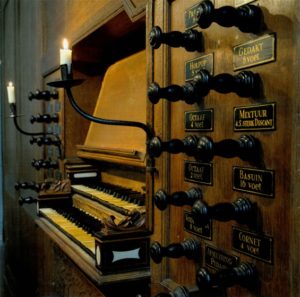 Every year the Prins Claus Conservatoire (PCC) organises the Orgelzomer Academy, a series of Masterclasses for young, talented organists from home and abroad on the famous Groningen organs. This summer course offers organ students a marvellous opportunity to play a historic organ, and the course is always heavily oversubscribed. In this special Schnitger year, the Orgelzomer Academy is an important part of the 'Schnitger Meets…' series. PCC and the Stichting Groningen Orgelland are combining forces to organise the summer course, expanding it to welcome no less than five top organists from Europe and Asia to Groningen, to give masterclasses to 35 international students,
On weekdays between 30 July and 7 August, different experts will give organ Masterclasses at different venues. Entrance is free for interested members of the public.
The Masterclass in Noordbroek will be organised by the Orgelcommissie Noordbroek. The programme is subject to change.
Morning session 09:30am – 12:30pm
Venue 1: Hervormde kerk
Noordersingel 1
9635 TG Noordbroek
Venue 2: Petruskerk
Kerkstraat 95
9636 AD Zuidbroek
Afternoon session 14:00pm – 17:00pm

Venue 1: Hervormde kerk
Noordersingel 1
9635 TG Noordbroek
Venue 2: Petruskerk
Kerkstraat 95
9636 AD Zuidbroek