When:
23 September 2019 @ 00:00 – 28 September 2019 @ 00:00
2019-09-23T00:00:00+02:00
2019-09-28T00:00:00+02:00
Where:
Langwarden
Langwarden
26969 Butjadingen
Duitsland

SGO – Anniversary Organ Excursion 2019 – 23-28 September
In search of Arp Schnitger
The Stichting Groningen Orgelland (SGO) was founded 50 years ago and we are celebrating that fact with a long, hot 'organ summer'. An important part of the celebrations is the Anniversary Organ Excursion to Northern Germany lasting several days, during which we will visit approximately 19 Schnitger organs.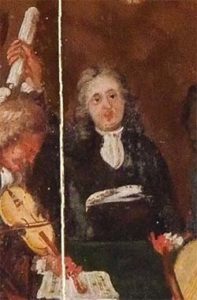 The SGO was founded in 1969, at a time when we began to realise more acutely the importance of preserving the cultural heritage of Groningen, with all its beautiful historic organs, for the future. The 250th anniversary of the death of the great organ builder Arp Schnitger was the trigger: his organs became one of the important spearheads of the foundation's work. Now, 50 years later, there is still more than enough reason to examine carefully the great master's work. We will do this on an organ excursion lasting several days, led by Sietze de Vries and his assistants Sander Booij and Pim Schipper. The trip will last six days, and we will visit 19 Schnitger organs and/or Schnitger organ fronts. Per day on average we will visit three:
23 September: Weener, Norden, Langwarden, Dedesdorf
24 September: Cappel, Lüdingworth, Grasberg
25 September: Oederquart, Stade, Hollern, Steinkirchen
26 September: Hamburg-Neuenfelde, Hamburg-Ochsenwerder, Hamburg-Bergstedt
27 September: Pellworm
28 September: Hamburg-Jacobi, Hamburg, Hamburg-Katharinen, Noordbroek.
'Primeval organ'
A special extra addition to the excursion is that we will see the organ in Langwarden. This organ was built by Arp Schnitger's uncle and teacher, Berendt Hus, with Hermann Kröger in 1651. You could almost call it a 'primeval' Schnitger organ: it demonstrates very clearly the points of departure for the Schnitger style. The boat trip to the island of Pellworm also promises to be a highlight! While on board we will see the Halligen islands in the Wadden Sea, which are actually just like Groningen 'wierden' (naturally raised areas of land) without any man-made additions such as dikes to protect the land from the sea. You can imagine how the landscape to the north of the city of Groningen looked once upon a time.
The excursion will be in Dutch but we will have English-language interpreters travelling with us.
When
23 September – 28 September 2019 2019
Where
Three overnight stays in Bad Bederkesa (23 – 26 September)
Two overnight stays in Husum (26 – 28 September)
Who
Ard Lukassen and Hilda Rodenboog (for the logistics) and Sietze de Vries (for the organs) will be organising the excursion.
Costs
The SGO is making this 6-day organ excursion available for €765 per person for donors and €825 per person for non-donors. The supplement for a single room is €175.
Included in the price are five overnight stays (half board), the boat trip to Pellworm, organ demonstrations, the 240-page book 'Arp Schnitger en zijn werk' and – last but not least – travel in a comfortable coach.
Cancellation insurance is not included.
REGISTRATION
Please register on the online registration form
If you registered for this anniversary excursion in advance during the Organ Excursion in 2018, please ensure your place on the trip by making a bank transfer for half of the price mentioned above.
IMPORTANT: registration will take place on a 'first come first served' basis. We are expecting a great deal of interest for this excursion, so please book quickly to ensure your place.
If you have any questions, please emailsecretaris@groningenorgelland.nl.