When:
29 July 2019 @ 14:00 – 17:00
2019-07-29T14:00:00+02:00
2019-07-29T17:00:00+02:00
Where:
Der Aa-kerk
Akerkhof 2
9711 JB Groningen
Nederland

Festive Commemoration
Opening Orgelzomer Groningen 2019

A celebration to mark 50 years of SGO and 300 years of Schnitger, a celebration which not only heralds the opening of the glorious Orgelzomer today but looks towards a future in which the Groningen organs will become an unshakeable element of the Groningen identity.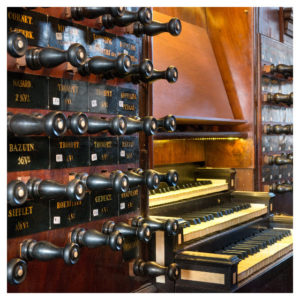 On 29 July, the day after the anniversary of Schnitger's death, the Orgelzomer Groningen 2019 officially opens with a special celebration, a Festive Commemoration to mark 50 years of Stichting Groningen Orgelland and 300 years of Schnitger. It will be an afternoon to meet friends old and new in one of the most beautiful churches in the city, which also happens to house a famous Schnitger organ: the Der Aa-kerk.
Today brings together organ experts and enthusiasts, music, culture and heritage enthusiasts and of course our faithful donors, without whom the SGO would not be able to do all its good work. Together we will look back on where it all started for the SGO: the Schnitger celebration in 1969, which also took place in the Der Aa-kerk. We will also look back on the last 50 years of organ promotion, maintenance and restorations which were directly or indirectly an end-result of that first meeting, and the wonderful music which will sound once more. Peter Westerbrink, titular organist at the Der Aa-kerk, will take his place at the historic organ and demonstrate the colourful range of the instrument, so characteristic of the expertly combined Schnitger sound and the 19th century additions carried out by Timpe and Van Oeckelen.
Programme
Coffee and tea will be served in the church from 13:30pm. In a relaxed atmosphere, prominent organ specialists and senior cultural ambassadors from Groningen province will give short speeches from 14:00pm onwards, providing information about current and future SGO activities and the vision underlying them. Refreshments will be served – and also, of course, some music. Not only baroque music, which the Groningen organs were originally built for, but also impressive and innovative new music involving the organ.
Who is invited to join us on this joyous occasion?
The day is meant for everyone who has or feels a connection – professional or otherwise – to the SGO and the cultural heritage and fantastic organs which Groningen city and province possess. Entrance is free.