When:
29 July 2019 @ 20:00 – 21:15
2019-07-29T20:00:00+02:00
2019-07-29T21:15:00+02:00
Where:
Martinikerk
Martinikerkhof 3
9712 JG Groningen
Nederland

Orgelzomer Groningen 2019 Opening recital
The long, hot 'organ summer' is about to start. Titular organists Leo van Doeselaar and Erwin Wiersinga will let Groningen's most famous organ shine in all its glory in this very first official recital for the Orgelzomer Groningen 2019.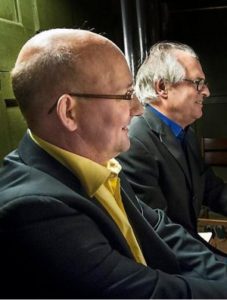 The starting shot was given this afternoon at the opening celebration in the Der Aa-kerk, where we looked back on 50 years of Stichting Groningen Orgelland (SGO) and 300 years of Schnitger. However a summer full of music can only really start once the first notes of the first official concert have been played! And that will happen this evening at the Orgelzomer Groningen 2019 Opening concert, which is also the first of several 'Schnitger Meets…' concerts to celebrate the SGO's anniversary. Leo van Doeselaar and Erwin Wiersinga will both be performing this evening on 'their' Martinikerk organ, generally considered one of the world's most beautiful organs. But who will be the one to play the very first note…? We will have to wait and see!