When:
16 October 2019 @ 20:00 – 22:00
2019-10-16T20:00:00+02:00
2019-10-16T22:00:00+02:00
Where:
Martinikerk
Martinikerkhof 3
9712 JG Groningen
Nederland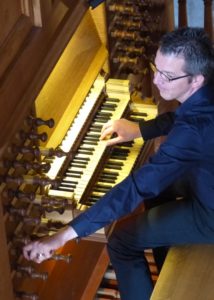 Schnitger Festival opening concert
The seventh edition of the Schnitger Festival will be opened in the Martinikerk, with a concert given by Vocaal Ensemble Quink and – on the church's world-famous organ – the Flemish organist Bart Jacobs.
The best things come to those who wait… today's opening concert in the Schnitger Festival sees the beginning of the final act of this year's Orgelzomer celebrations.
The well-known titular organist of the Grenzin organ in the Cathedral of St Michael and St Gudula in Brussels, Bart Jacobs has a particular passion for choral music, and that will become abundantly clear in this double concert with Vocaal Ensemble Quink. Quink is famous for its authentic performance of music from different style periods. With a fixed core of four singers, the ensemble travels the world for performances at many international festivals and tours in for example the United States and south-east Asia.