When:
31 July 2019 @ 09:00 – 18:00
2019-07-31T09:00:00+02:00
2019-07-31T18:00:00+02:00
Where:
Hoofdstation Groningen
Stationsplein 4
9726 AE Groningen
Nederland

Contact:
Let op: korting bij deelname meerdere excursies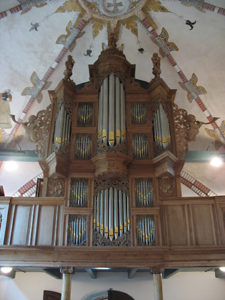 Five centuries of Groningen organ-country
Organ excursion 'Schnitger in Groningen province'
The second excursion in the series 'Five centuries of Groningen organ-country' will take us to the organs which Arp Schnitger built himself in the province around the city of Groningen.
"(…) an intonation with a rough-edged beauty to it, powerful with a sharp discant and a daring wealth of overtones in the overall sound. In contrast, the flutes often have a charming character": thus describes the CD-box 'Organ history in Groningen' the Schnitger organs. Today we will be able to hear for ourselves whether we agree with this description, as we will be visiting and hearing five of the organs with organist Sietze de Vries and Schnitger expert Bernhardt Edskes. Our first stop is the Jacobikerk in Uithuizen, where in 1700 Schnitger built an organ which to this day is considered one of his finest instruments, not only for its sound, but also for its masterly woodwork and statues. After Uithuizen we will visit equally beautiful organs at Godlinze (1704), Eenum (1704), Nieuw-Scheemda (1695) and Noordbroek (1696).
The excursion will be in Dutch but we will have English-language interpreters travelling with us.
When
31 July 2019, 09:00am – 18:00pm
Where
We will leave Groningen's main train station at 9:00am in a vintage coach. You can also park at the carpool car park at Kardinge and board the coach there at 09:30am.

Costs
€40 per excursion day. This includes lunch and coffee/tea.
Discount is available when you book more than one excursion.
Please click on one of the links below to make use of your discount:
2 excursions €35 per day
3 excursions €30 per day
4 excursions €25 per day
5 excursions €25 per day