When:
1 August 2019 @ 09:00 – 18:00
2019-08-01T09:00:00+02:00
2019-08-01T18:00:00+02:00
Where:
Hoofdstation Groningen
Stationsplein 4
9726 AE Groningen
Nederland

Contact:
Let op: korting bij deelname meerdere excursies
Five centuries of Groningen organ-country
Organ excursion 'The Hamburg School'
The influence of Schnitger and the Hamburg school he developed was felt long after Schnitger's death. The generation after Schnitger built organs of outstanding quality, all in the style of the Hamburg school. Today we will see and listen to five of these craftsman-built artistic jewels.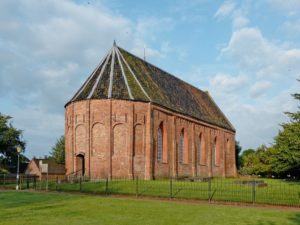 The first stop is the Reformed church in Zandeweer, built at the start of the 13th century. The church houses an early organ by Albertus Antoni Hinsz, an organ builder who moved from Hamburg to Groningen in 1728 to become an apprentice under Franz Caspar Schnitger, Arp Schnitger's son. Schnitger died soon after, leaving Hinsz to take over his workshop. The organ in Zandeweer is the first organ which he built completely independently. Our journey then takes us to Loppersum (1735, this organ is currently being restored), Appingedam (1744) and Meeden (1751). We will experience how Hinsz continued to deliver consistent quality in his organs, but was influenced by changing musical tastes. The organists Vincent Hensen and Dirk Molenaar, who will be travelling with us, will demonstrate this for us. The last organ on our tour will be Zuidbroek. This organ was built in 1795 by Hinsz' successors. Hinsz himself had died by then, but he is seen as the last great representative of the famous Groningen organ-building tradition of the 18th century.
The excursion will be in Dutch but we will have English-language interpreters travelling with us.
When
1 August 2019, 9:00am – 18:00pm

Where
We will leave Groningen's main train station at 9:00am in a vintage coach. You can also park at the carpool car park at Kardinge and board the coach there at 09:30am.
Costs
€40 per excursion day. This includes lunch and coffee/tea.
Discount is available when you book more than one excursion.
Please click on one of the links below to make use of your discount:
2 excursions €35 per day
3 excursions €30 per day
4 excursions €25 per day
5 excursions €25 per day