When:
2 August 2019 @ 09:00 – 18:00
2019-08-02T09:00:00+02:00
2019-08-02T18:00:00+02:00
Where:
Hoofdstation Groningen
Stationsplein 4
9726 AE Groningen
Nederland

Contact:
Let op: korting bij deelname meerdere excursies
Five centuries of Groningen organ-country
Organ excursion 'Sounds from the 19th century'
In the 19th century expert organ builders such as Timpe, Van Oeckelen and Lohman took over the baton from the builders of the Hamburg school. Climb onboard our coach and discover the sound of these organs in the Nieuwe Kerk in the city of Groningen and in the churches of Ulrum, Saaxumhuizen, Oude Pekela and Farmsum in Groningen province.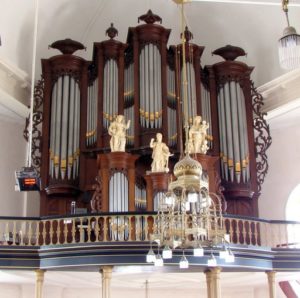 'Gallant' is an expression often used to describe the organs built in the second half of the 19th century. Several German organ-building families settled in the countryside surrounding Groningen, to build successive organs. We start this excursion with a visit to the Nieuwe Kerk in the city, where Johan Wilhelm Timpe finished his largest organ in 1831, which displays a mix of classicist and Biedermeier elements. Later in the day we will see and hear organs built by the Lohman family: Dirk Lohman's organ in Ulrum, which he built in 1806, and his son Nicolaus Anthonie's most brilliant Lohman organ in Farmsum (1828). We will visit two Van Oeckelen organs, in Saaxumhuizen (1851) and in Oude Pekela (1865). Organists Henk de Vries and Pieter Pilon will demonstrate the organs for us today.
The excursion will be in Dutch but we will have English-language interpreters travelling with us.
When
2 August 2019, 09:00am – 18:00pm
Where
We will gather at Groningen's main train station at 9:00am or at the Kardinge carpool car park at 09:15am and make our way with public transport to the Nieuwe Kerk. Our visits after the Nieuwe Kerk will be by vintage coach.
Costs
€40 per excursion day. This includes lunch and coffee/tea.
Discount is available when you book more than one excursion.
Please click on one of the links below to make use of your discount:
2 excursions €35 per day
3 excursions €30 per day
4 excursions €25 per day
5 excursions €25 per day