When:
19 October 2019 @ 10:00 – 12:00
2019-10-19T10:00:00+02:00
2019-10-19T12:00:00+02:00
Where:
Pelstergasthuiskerk
Pelsterstraat 43
9711 KH Groningen
Nederland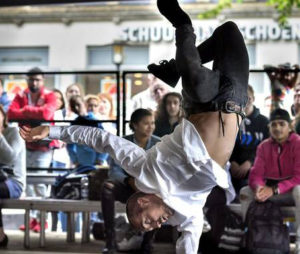 Schnitger in Sneakers – Urban House Workshop
Children and young adults aged 11+ are all invited to come and work on a spectacular performance of Urban House dance and organ with the performers of Urban House Groningen and organist Vincent Hensen
Last year Urban House made a real splash at the Schnitger Festival with their performance with Groningen schoolchildren of the production 'Music comes First', a thrilling show of hip-hop dance and music, much of which was provided by the organ. The combination of hip-hop and organ proved so powerful that the Groningen organ committees have set up a long-term educational programme with Urban House, with Urban street culture and the organ at centre stage.
'Exploring the world with Schnitger in Sneakers'
Today sees the kick-off of this educational programme, 'Exploring the world with Schnitger in Sneakers', with a workshop for all children and young adults who enjoy dancing and exploring the boundaries of their potential. Participants in the workshop will spend the morning with a choreographer and the organist Vincent Hensen designing their own show, which they will then perform that afternoon as part of the professional show put on by Urban House Groningen and Vincent Hensen.
Who's it for? For you!
The Urban House Workshop is open to all children and young adults aged 11+. So if you fancy dancing in church, come to the Pelstergasthuiskerk at 10.00 am on 19 October 2019. It's free to take part and you don't have to register beforehand. The workshop finishes at 12.00 pm and the show starts at 13.00 pm.
'Schnitger op Sneakers' – Workshop

WHEN: 19 October 2019, 10.00 am – 12.00 pm
WHERE: Pelstergasthuiskerk, Pelsterstraat 43 9711 KJ Groningen
FREE ENTRY

'Schnitger op Sneakers' – Performance
WHEN: 19 oktober 2019, 13.00 pm – 14.00 pm
WHERE: Pelstergasthuiskerk, Pelsterstraat 43, 9711 KJ Groningen
TICKETS: € 10,00
Click here for more information