When:
20 October 2019 @ 15:00 – 16:45
2019-10-20T15:00:00+02:00
2019-10-20T16:45:00+02:00
Where:
Martinikerk
Martinikerkhof 3
9712 JG Groningen
Nederland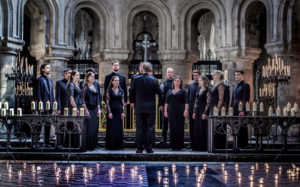 Closing concert with Tenebrae Choir and Arvid Gast
The very last concert of Orgelzomer Groningen 2019 will be given by organist Arvid Gast and the famous Tenebrae Choir from Britain, directed by Nigel Short
We bring this long, hot Orgelzomer to a close with a bang, a concert given by two world-class acts: organist Arvid Gast – one of the principal guests for this, the 7th edition of the Schnitger Festival – and the wonderful ensemble Tenebrae Choir, the British choir set up in 2001 by conductor Nigel Short (who himself is a member of the well-known vocal ensemble The King's Singers) and which has developed into a figurehead in the English choral tradition.
Arvid Gast and Tenebrae present today a time-travelling programme: from the late Renaissance of Heinrich Schütz (1585 – 1672), through the Baroque of Schnitger's contemporary J.S. Bach (1685 – 1750) to the Romantic period of Max Reger (1873 – 1916).
This concert is organised in cooperation with SPOT Groningen