When:
20 October 2019 @ 10:00 – 11:00
2019-10-20T10:00:00+02:00
2019-10-20T11:00:00+02:00
Where:
Martinikerk
Martinikerkhof 3
9712 JG Groningen
Nederland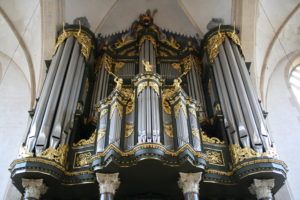 City Cantata service
The Luthers Bach Ensemble will perform Bach's cantata 'Ich habe meine Zuversicht' in this music-led service in the Martinikerk. Theo Jellema will play the organ.
Under the beautiful starry ceiling of the Martinikerk, the congregation today will enjoy the sounds of Baroque music played and sung by the musicians of the Luthers Bach Ensemble.
The cantata 'Ich habe meine Zuversicht' was almost lost to posterity when the manuscript was split up and divided among collectors; today the LBE will perform a reconstruction by the organist and musicologist Pieter Dirksen. The Martinikerk organ will also be heard, as Theo Jellema accompanies the congregation and also performs a couple of works himself at its console.
Programme
J.S. Bach, cantata Ich habe meine Zuversicht BWV 188 (reconstr. Pieter Dirksen)
J.S. Bach, Lutheran Mass in G minor BWV 235
Performers
Luthers Bach Ensemble (soloists & Baroque orchestra) directed by Tymen Jan Bronda
Theo Jellema (organ)
Antje van der Tak (soprano)
TBD (alto)
Jasper Dijkstra (tenor)
Henk Timmerman (bass)
After the service, tea and coffee will be served in the side chapel.